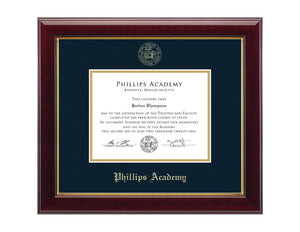 Diploma Frame Gallery Style
 Commemorate Graduation!   Diploma Frame Embossed in Gallery Style Frame. 
Features the school name and official seal gold embossed on navy and gold museum-quality matting.
The Gallery moulding is crafted of solid hardwood with a high-gloss cherry lacquer finish and gold inner lip.
This frame fits a 6"x8" High School diploma.

Document Size: 8"w x 6"h
Approx. Overall Frame Size: 16"w x 14"h
This custom frame is handcrafted in the USA and made-to-order.
Please allow up to 4 weeks for delivery.  
This is a Distinctive Item that is non-returnable and not available for in-store pick-up, it is a ship direct to customer only.