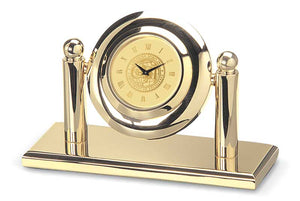 Arcade Desk Clock
Arcade Desk Clock - Quartz Movement" featuring Phillips Academy Medallion Logo Face, Gold Plated Case, Dimensions: 3 1/2" x 2 1/2" x 1/2", Engravable with Plate Pouch & Gift Box D6 Gold Tone  Medallion Dial.
Please Allow 2-3 Weeks for Delivery. 
Note: This is a Distinctive Item that is non-returnable.